HMIs, Edge Gateways, & Remote Access
Remote access is the ability to access a HMI or connected device, from another device, at any time, and from anywhere. With our EBPro HMI configuration software and supported hardware solutions, you have the freedom to access a HMI or Gateway device, and all its data and applications, from another device (ex. tablet, smart phone, PC) and control it as if you were standing in front of it.
We have several remote access solutions and each one is different, but generally, all work in similar ways.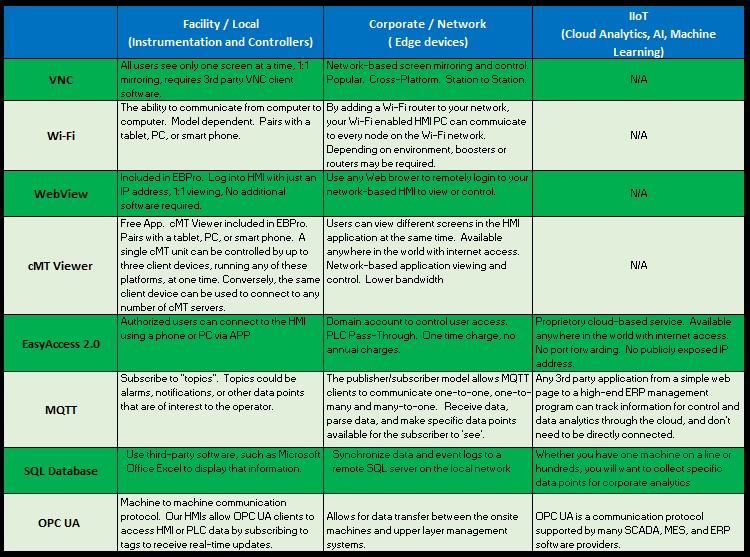 First there's our HMI configuration software, EBPro. Once you download and get started using EBPro, you will have access to several features included in the software that allow you to access your HMI and connected devices via remote access.

Once the features are enabled, you can open the "app" or "program" on the device you're remoting from and choose to connect to the HMI you want to remote to. As long as the HMI is powered on and has access to the internet, you'll be able to connect instantly.
Keep in mind that each remote access solution will work slightly differently and have their own set of features. Depending on your specific situation, there may be several remote access solution that will work, only you can decide what is best for your specific situation.
Visit our HMIs, Edge Gateways, & the IIoT page for more information on our IIoT solutions.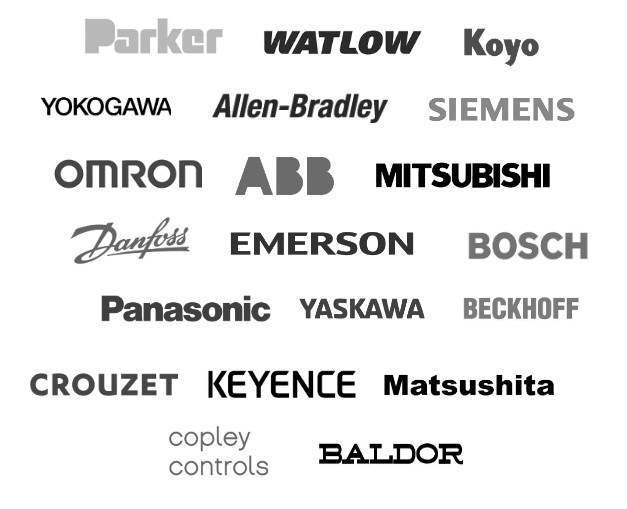 EBPro Configuration Software
With over 300 PLC & Controller communication protocols, our HMIs will easily integrate with your preferred PLC brand Including Allen-Bradley, Siemens, Omron, Emerson, GE, Panasonic, Mitsubishi and all the major protocols is a few clicks away. Creating a powerful edge gateway at a great price has never been easier. Pick and place objects, pictures, and shapes; create trend display, graphs, XY plots, and pie charts; add passwords and security levels; assign communication (PLC) drivers easily; and more.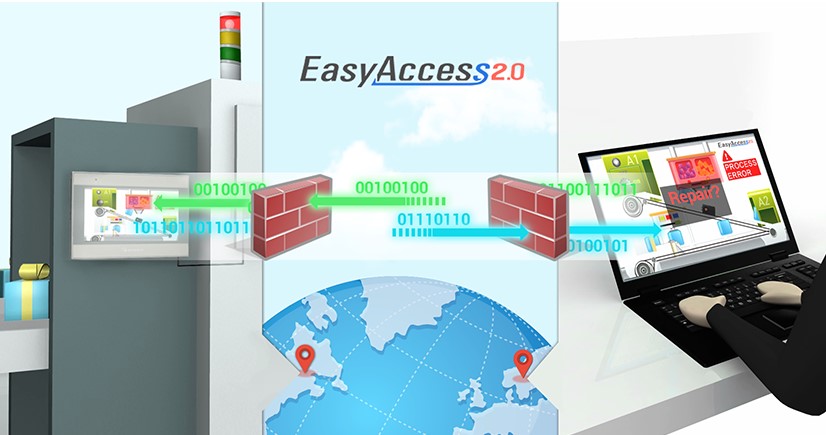 EasyAccess 2.0 allows you to instantly and securely communicate with your Maple System HMI from anywhere in the world. Accessibility from outside the plant provides the opportunity to troubleshoot or add new features to the HMI/PLC program by qualified personnel without ever leaving company headquarters. An administrator grants access to specific HMIs and groups, and traffic is encrypted and secured with VPN. Remote troubleshooting saves money by reducing downtime, travel, and personnel costs. EasyAccess 2.0 integrates perfectly with a wide variety of displays including desktop PCs, laptops, tablets, and smart phones.
cMT Viewer and EasyAccess
cMT Viewer is a client application that enables users to view and control supported HMI screens, quickly and easily. cMT Viewer runs the HMI project on the client device. Only application data is exchanged between the supported hardware, acting as a server, and the client device – your smart phone, tablet, or PC. Monitor and control up to 50 HMIs with one device.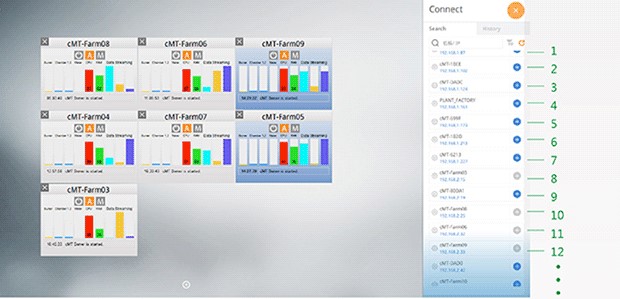 With WebView, you simply point your browser to the supported HMI's IP address on your local network and log in. Now you have access to all the functions, data, and project screens from your HMI application. You can access system settings, navigate to any window, and fully control your HMI from anywhere. It works just like VNC, but without requiring you to download or install any additional software!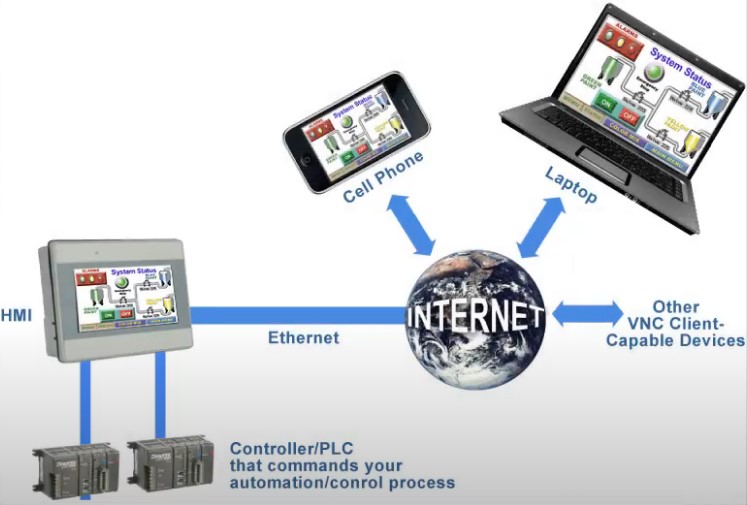 Our HMIs come with a built in VNC (Virtual Network Computing) server. Any third party VNC viewer client can log into a Maple HMI to see and control exactly what's shown on the HMI screen. Configurable options on the Maple HMI include: set a password, enable monitor mode (view only - no control), allow single connection or multiple connections
Maple Systems HMIs and Gateway products can bridge the gap between your SCADA system and field devices. Using the HMI's Modbus RTU/TCP Slave protocol, the Gateway provides a mechanism to connect the Modbus RTU/TCP Slave protocol to storage within the HMI or in a connected device. The SCADA system uses the ModbusTCP Master protocol to query the HMI using the HMI's own IP address.
Maple Systems can serve as your guide, making it an easy process to join the next evolution of automated control. Our HMIs and Gateway products are an access point enabling operating equipment on the plant floor to connect to information technologies of the IIoT - databases, cloud-based servers, analytic software, and more.
With our IIoT solutions, that are already included in the EBPro software, we can help you achieve better access to invaluable data and open up a world of possibilities for your business.

Designed to be light weight, open, and simple, MQTT is a subscriber/publisher messaging transport protocol that is considered a great solution for applications where a small code footprint is required and/or network bandwidth is scarce. It is particularly suitable for continuous monitoring of sensory data such as temperature, pressure, water level, energy monitoring…etc.
OPC UA is a communication protocol supported by many SCADA, MES, and ERP software providers. OPC UA uses a Client/Server architecture. OPC UA aas built-in security with signed and encrypted data transfer using state-of-the-art encryption algorithms. Most cMT products come with OPC UA Server functionality built-in, or it can be added to non-supported cMT installations with a license. Advanced HMIs can act as an OPC UA Client, but do not support Server functionality.
cMT products can send machine metrics and production data or recipes to an SQL database system directly without any middleware system. That data can then be managed on a larger scale using batch database operations. They also support a built-in database query viewer which enables production machines to retrieve data from your central SQL database.
Supervisory Control and Data Acquisition (SCADA)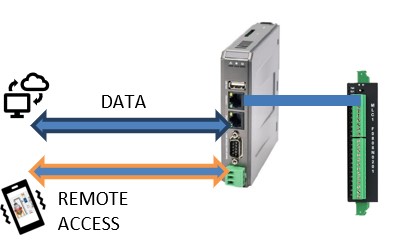 Maple Systems offers all the components you need to create your own unique level of supervisory data acquisition and control, from the simplest stand-alone machine to sophisticated multi-device networked production line(s), all the way to enterprise-level operations and IIoT functionalities leveraging cloud connectivity.
Log data from your devices to aid in reporting, to gain efficiencies, reduce downtime, and plan for routine maintenance. Add additional IIoT functionality like MQTT, OPC UA, Ignition, SQL database integration, and more. Our products can help you standardize communications between devices, gluing different systems together for one source to your SCADA. No need to redesign your entire application.
Keep the components that are already working for you, just add Maple Systems components to grow your abilities to supervise, control, and acquire data.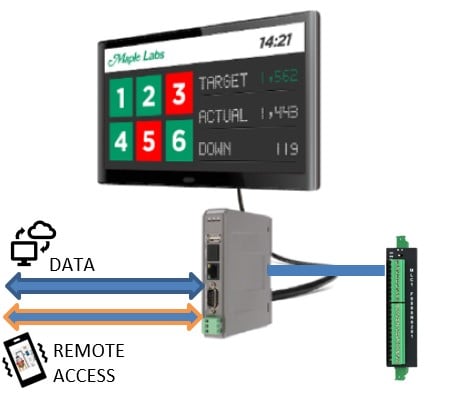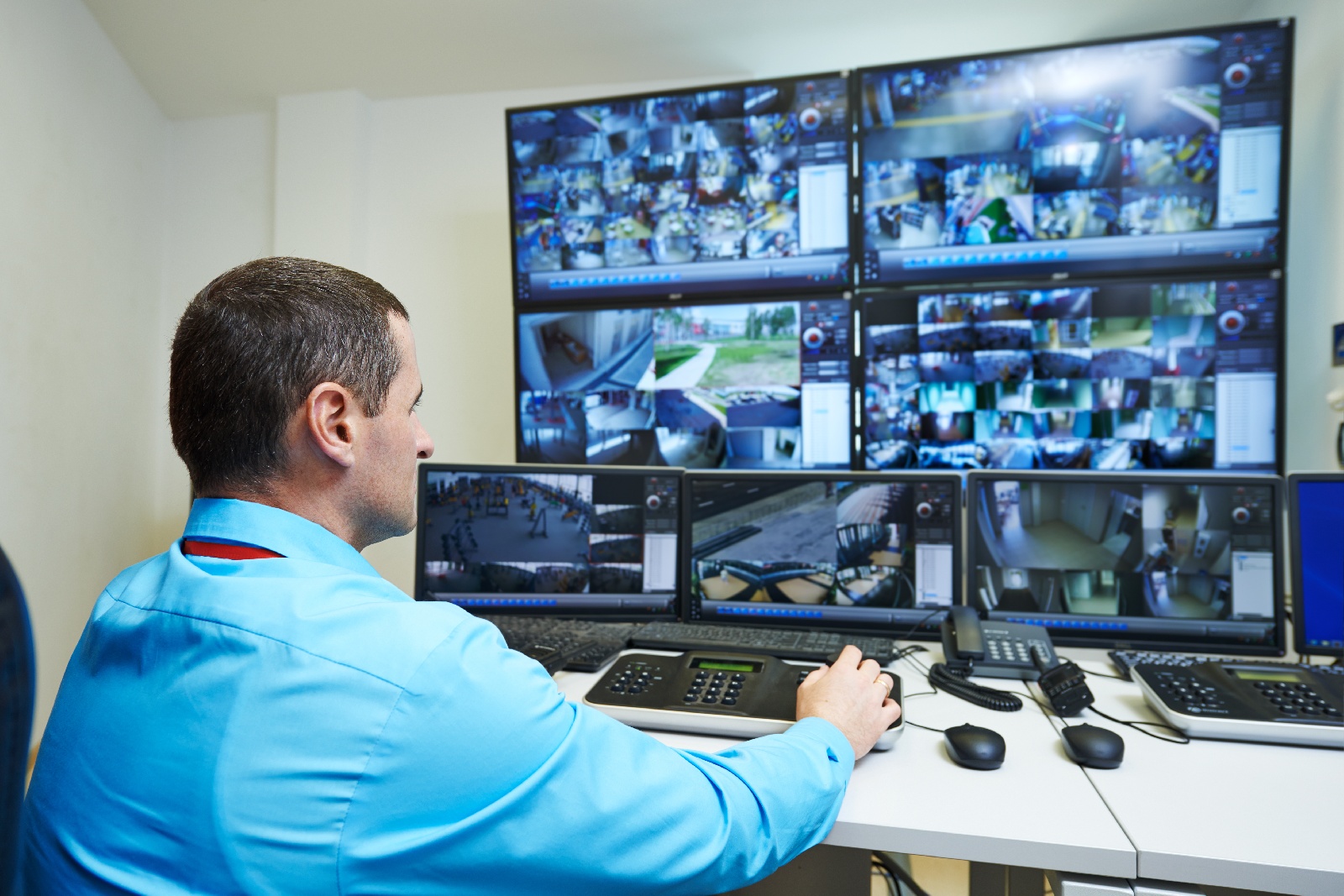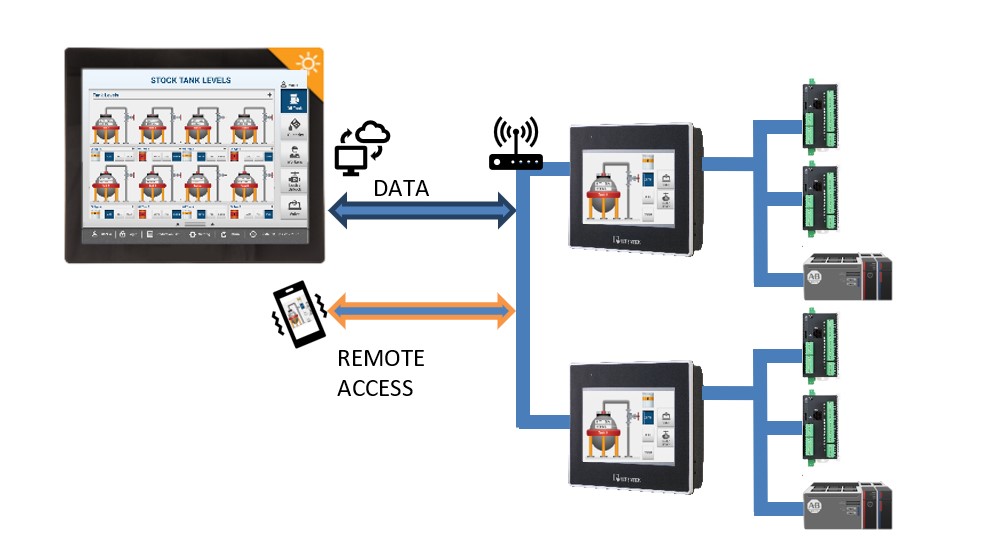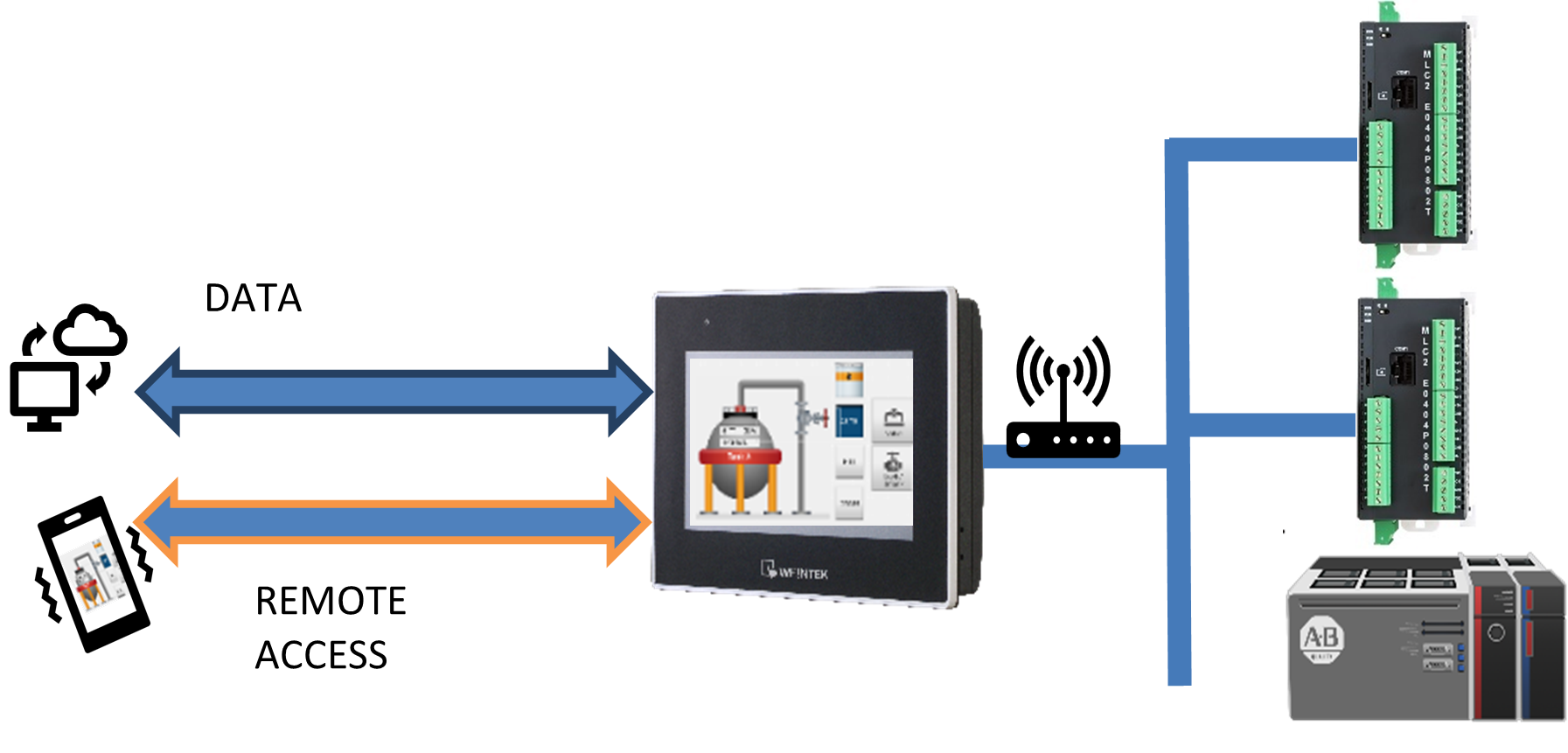 To learn more about how our products work together to create scalable SCADA solutions, visit our SCADA solutions page