If your goal is to enhance efficiency, optimize plant operations, reduces emissions, avoid unplanned downtime, and lower total cost of ownership, we can help. Today's technology offers innovative solutions to the energy and power industry and industrial process control issues. Whether it's integrating process control, motor control, safety, and information solutions, our product can help you address your unique challenges head on.
Here are just a few of the Energy, Power, and Utilities suppliers, distributors, OEMs that use our products:
"Our products operate in some very tough environments and the [Maple] HMI is able to take the abuse. The pricing is competitive and everyone we work with at Maple Systems has been very helpful and knowledgeable of the products."
Jeff Painter, Technical Services
Simpson Machinery & Control

We Energies buys 7" HMIs (HMI5070L) to support critical operation. As the largest renewable energy investor in Wisconsin, they know the importance of clean energy. Their investments in solar, wind and other clean energy projects are an important part of our goal to reduce carbon dioxide emissions from electricity generation, including to be net carbon neutral by 2050.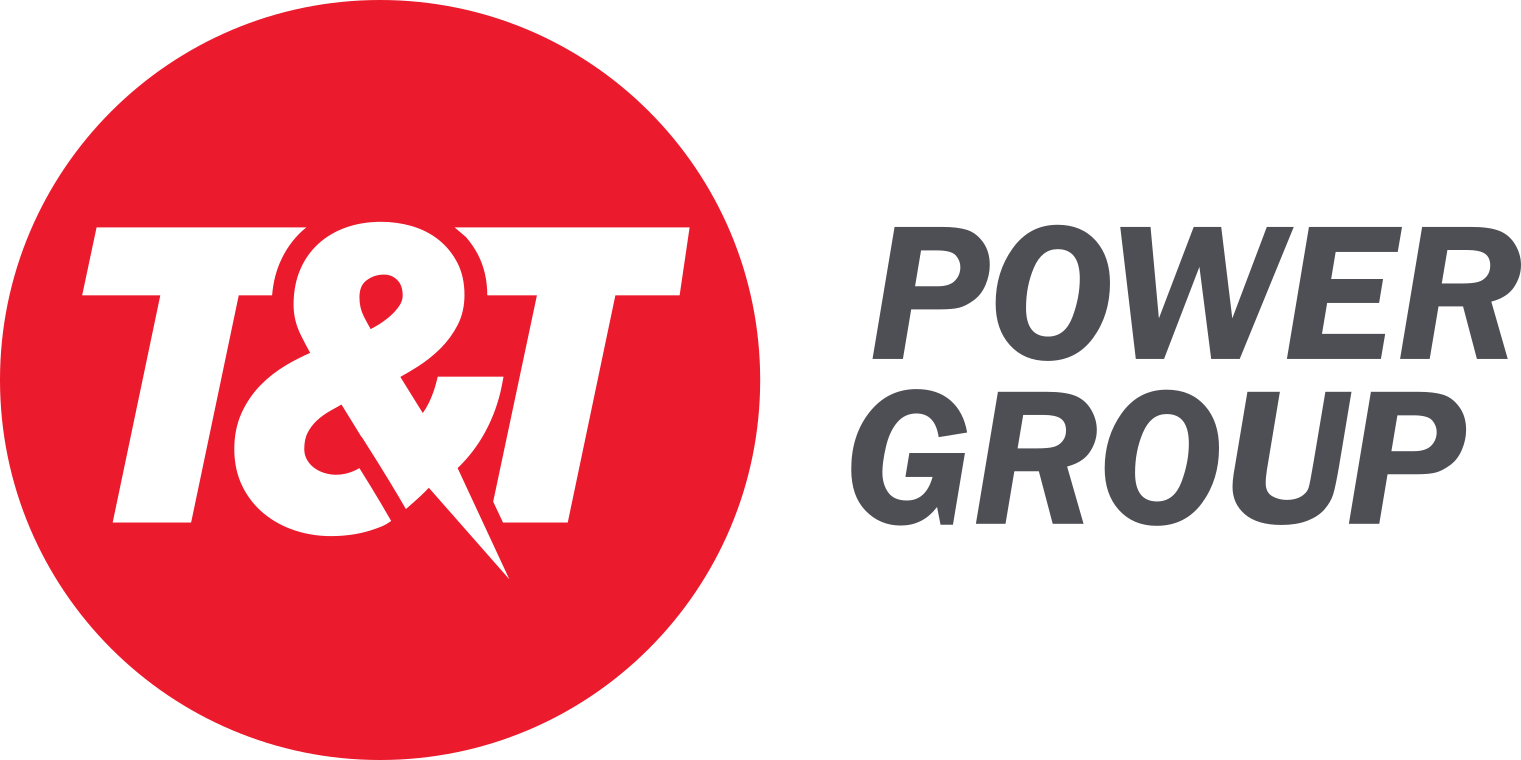 With over twenty years in business, 3 Phase Power Systems (3PPS) is one of Canada's top power distribution and motor control experts having played a critical role in numerous industrial, water and wastewater infrastructure projects and a proud partner of ours. When T&T Diesel Power acquired 3 Phase Power Systems in 2020, our partnership expanded to include T&T Power Group.

Lone Star Controls is a full service control system company specializing in gas turbine controls, plant controls, pipeline automation, gas processing, and fuel monitoring. They design, build and install automation and control systems using the latest technology and the most skilled, customer-centric professionals and buy our Industrial Panel PCs to support their business model.
Dynapower provides power electronics for the automotive, architectural, aeronautical, medical, recreational, and consumer electronics industries. Their global footprint has expanded, charting the course for many new power conversion applications, like helping to create clean drinking water, turning trash to energy, generating hydrogen to fuel zero-emission vehicles, recovering and recycling metals from discarded electronics, and sterilizing food.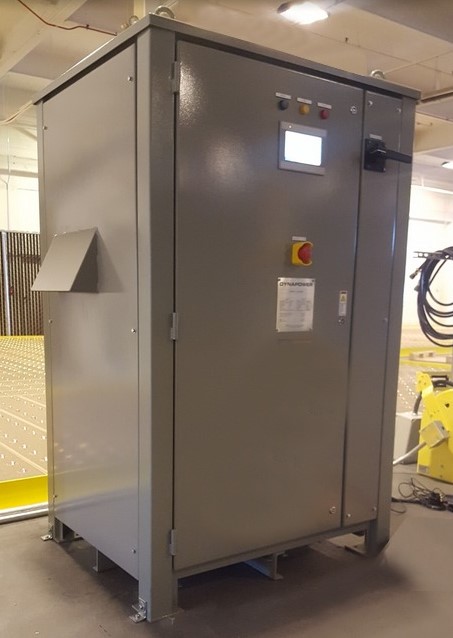 Dynapower counts on a Maple Systems HMI on their 400Hz frequency converter. With its pulse-width modulated proven technology, the Dynapower Rapid Power 400 Hz frequency converter delivers aviation quality 400Hz power safely and reliably for military and commercial customers worldwide.
"We always have a few projects in the works, and we are always happy with Maple. The price point is great and Technical Support is an invaluable help. We find your product allows for a smooth integration."
Nicholas Radley, Project Manager
NE Controls, LLC
Scalable solutions for single "small wind" applications to multiple "wind farms".
We offer powerful HMI/SCADA solutions to monitor and adjust any operating set point in the controller or PLC. Our solutions are scalable to meet your needs. Remote monitoring of key parameters such as power output, battery status, shaft vibration, pitch and yaw settings and break status. Integrate wind forecast, anemometer readings and gust information into an easy to read graphical environment. Easily generate detailed reports. Collect information from thousands of points and visualize it in a trend format on screen or keep historical information in any SQL database.
Remote access is especially important for solar energy automation.

Solar systems must be designed with equipment, environment, and remote monitoring in mind. Environments may be harsh, with physical exposure posing a
continuous risk of damaging equipment. Operations and maintenance may not always be able to operate at the location of a solar farm, due to lack of resources or equipment, and remote monitoring is the most efficient means of metering the energy output using remote data acquisition. Our remote access and IIoT solutions like MQTT, Ignition, and OPC UA can help bridge the gap.
Meet changing requirements and regulations by upgrading your systems.
Resilient, reliable and efficient electrical grid operation is critical to society. The electrical power and energy industry is changing rapidly to meet the demands of the society and address decarbonization needs. New technologies offer significant opportunities for realizing a resilient and sustainable energy future. We are at a crossroads in making business and technical decisions that will allow us to optimally and cost-effectively manage the grid. Our HMI, Smart HMI, and Industrial PC products can be integrate into an existing infrastructure and add functionality.
Hydroelectric plants that have been around for decades are now in need of updates. Because our solutions interface with over 300 different PLC and controllers, we can help upgrade your legacy or aging system without the big upgrade costs of out competitors. Add remote monitoring, email alerts, and other IIoT functionality like MQTT, OPC UA, or SQL database integration with very little capital investments - only big returns.
Our Configuration software, EBPro is able to monitor plant operations, emission, alarms, outputs/inputs, environmental limits, and so much more, all-in-one software.
Maple Systems can serve as your guide, making it an easy process to join the next evolution of automated control. Maple Systems HMIs, Gateways, and Industrial PCs are your gateway to the IIoT. Our products are an access point enabling operating equipment in the field or on the plant floor to connect to information technologies of the World Wide Web, databases, smart phones, analytic software, and more. Achieve better access to invaluable data and open up a world of possibilities for your business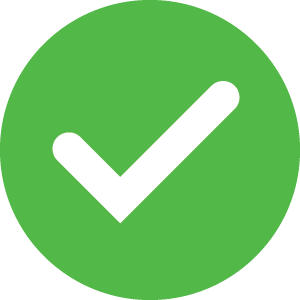 Email notifications for alarms and data backups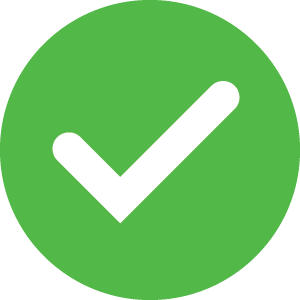 Remote access/monitoring/control functionality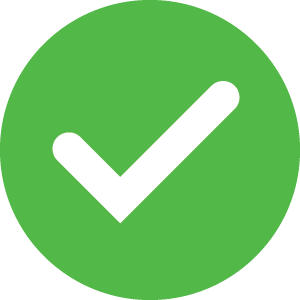 Data logging for more informed decision making
Enhanced network security thanks to physically separate dual Ethernet ports.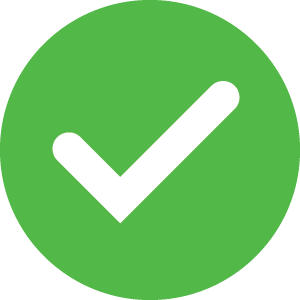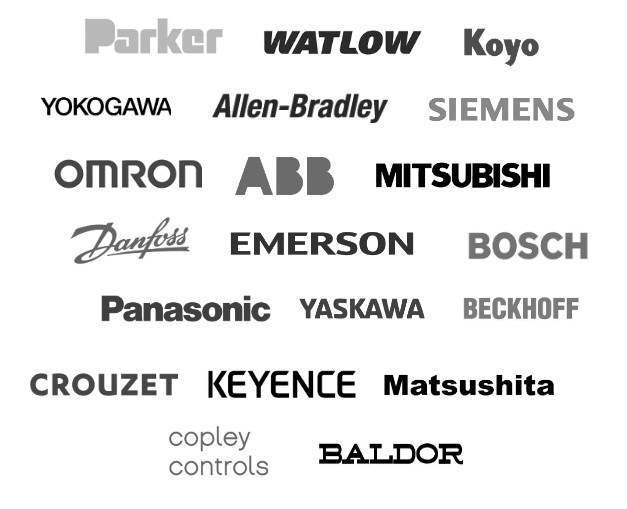 Connect the Hardware using a Protocol you Know
Free EBPro Programming Software provides easy integration with built-in drivers for over 300 PLCs, including drivers for Allen-Bradley, Siemens, Emerson, Omron, and Panasonic.
Capacitive, High Brightness, Stainless Steel,
and Wi-Fi options to choose from
To effectively and efficiently monitor packaging operations, the need for auto adjustments, and timely and accurate data is critical. You need reliable, current, and historical information to make critical business decisions. As safety and environmental concerns continue to increase, the ability to remotely monitor your facilities and equipment, and quickly make adjustments becomes increasingly important.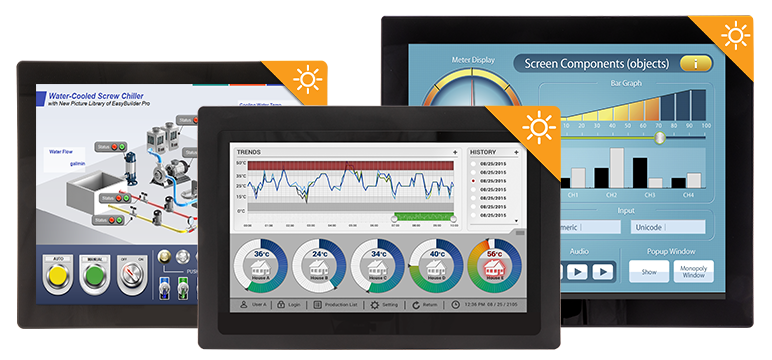 We have hundreds of configuration options to choose from:
• 11 Screen Sizes, 7"-21.5"
• 6 Intel CPUs
• 4-32GB Memory
• 32GB -512GB SSD
• Optional Wi-Fi Expansion Kit
• Microsoft Windows OS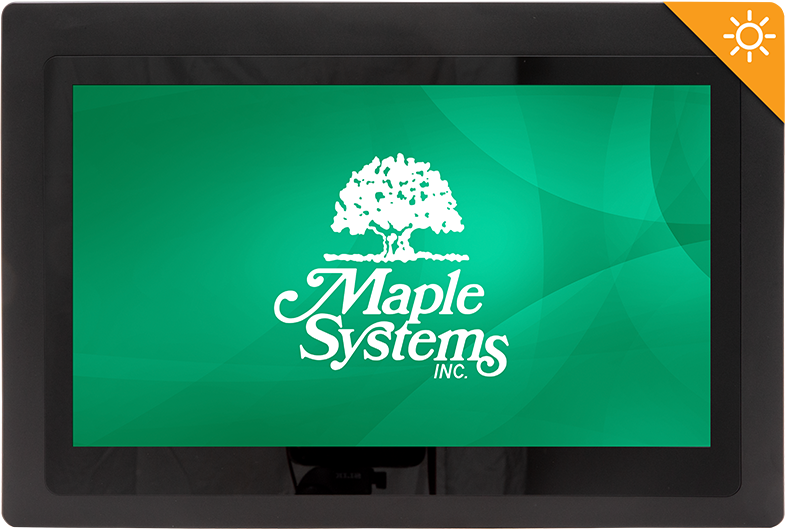 If you don't need a display, we offer Industrial Box PCs. Customize your configuration, including Wi-Fi and Raid support options available.
For over 20 years we have proudly partnered with Indusoft Web Studio, now Aveva, as our SCADA software provider. With its powerful development tools that enable you to create supervisory applications that operate on multiple operating system platforms. Create your project using features such as animated screens, alarms, trends, scripting, recipes & reports, and schedule tasks. This software offers the power to create exactly what you want, the way you want it, including 21 CFR Part 11 compliant.
Wi-Fi & Class I, Division 2 Options
Our easy to use HMIs and Free Configuration Software gives you the power and flexibility to tackle your next automation project. With display sizes ranging from 4.3" to 15", diverse options and features such as Wi-Fi, Dual Ethernet, Remote Access, Class 1, Div 2. Our easy to use HMI software allows you to pick and place graphical objects, assign communication (PLC) drivers easily, and access data from these Advanced Human Machine Interfaces.
Maximize production | Enable manage-by-exceptions | Avoid unnecessary equipment shut down
Gather data cost effectively | Prevent costly equipment repairs | Streamline ticketing and invoicing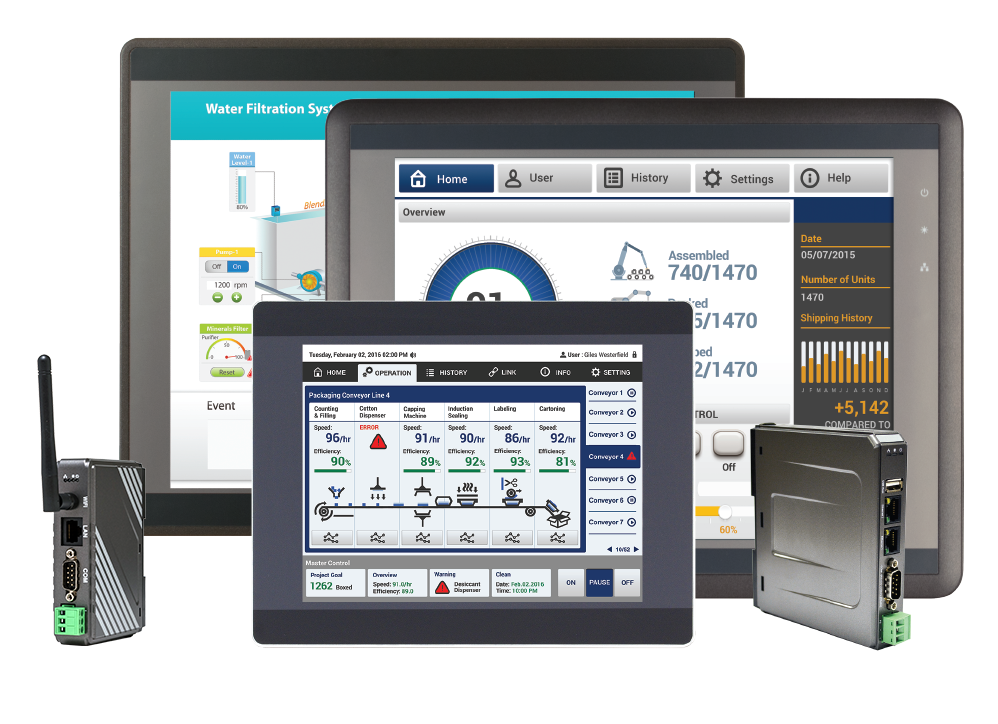 MQTT, OPC UA, Sparkplug B, Ignition, SQL Databases
These IIoT products are designed to meet the expanding need for new
ways to connect to equipment, while still preserving the core function of a
fixed operator terminal. Operators are free to remotely monitor and control equipment with any smart/mobile device, from anywhere in the world.

Data is an extremely valuable resource that creates immense opportunities for growth and increased profitability. For industrial automation companies, the challenge is to efficiently collect, analyze, and visualize masses of data from SCADA systems, equipment, facilities and safety systems. This data, in turn, supports operational insight and business value—all while improving return on investment.
Our HMC series combines a Touch Screen HMI and PLC all in one unit. Utilized worldwide to employ diverse applications, our HMI PLCs lower costs, save space, and feature options including: Serial and Ethernet communication, support for Class I, Division 2 installations, and numerous I/O configurations.
These controllers with displays range in size from 4.3", 7.0", to 10.2". I/O modules offer digital inputs and outputs, with analog I/O as well. Our HMI+PLC models are ideal for harsh locations with their Class I, Div 2 rating.
HMI PLCs provide an affordable combination of display and control in a single package and programmed by using our MAPware7000 software, which allows you to have web server functionality, data logging, recipes, graphs, alarms, trending, create objects with multiple tasks, and more.
You can use serial and ethernet communication to remote via Modbus to expansion I/O, making these controls capable of any size application.
Native Ladder/IEC 61131-3.
Supervisory Control and Data Acquisition (SCADA)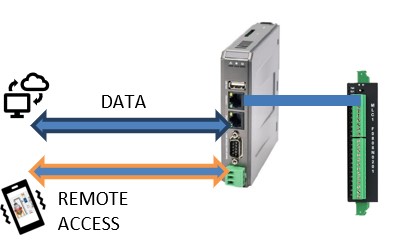 Maple Systems offers all the components you need to create your own unique level of supervisory data acquisition and control, from the simplest stand-alone machine to sophisticated multi-device networked production line(s), all the way to enterprise-level operations and IIoT functionalities leveraging cloud connectivity.
Log data from your devices to aid in reporting, to gain efficiencies, reduce downtime, and plan for routine maintenance. Add additional IIoT functionality like MQTT, OPC UA, Ignition, SQL database integration, and more. Our products can help you standardize communications between devices, gluing different systems together for one source to your SCADA. No need to redesign your entire application.
Keep the components that are already working for you, just add Maple Systems components to grow your abilities to supervise, control, and acquire data.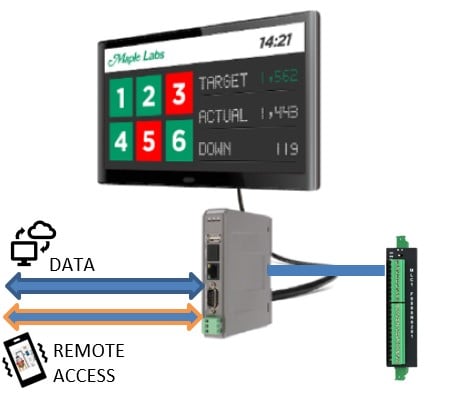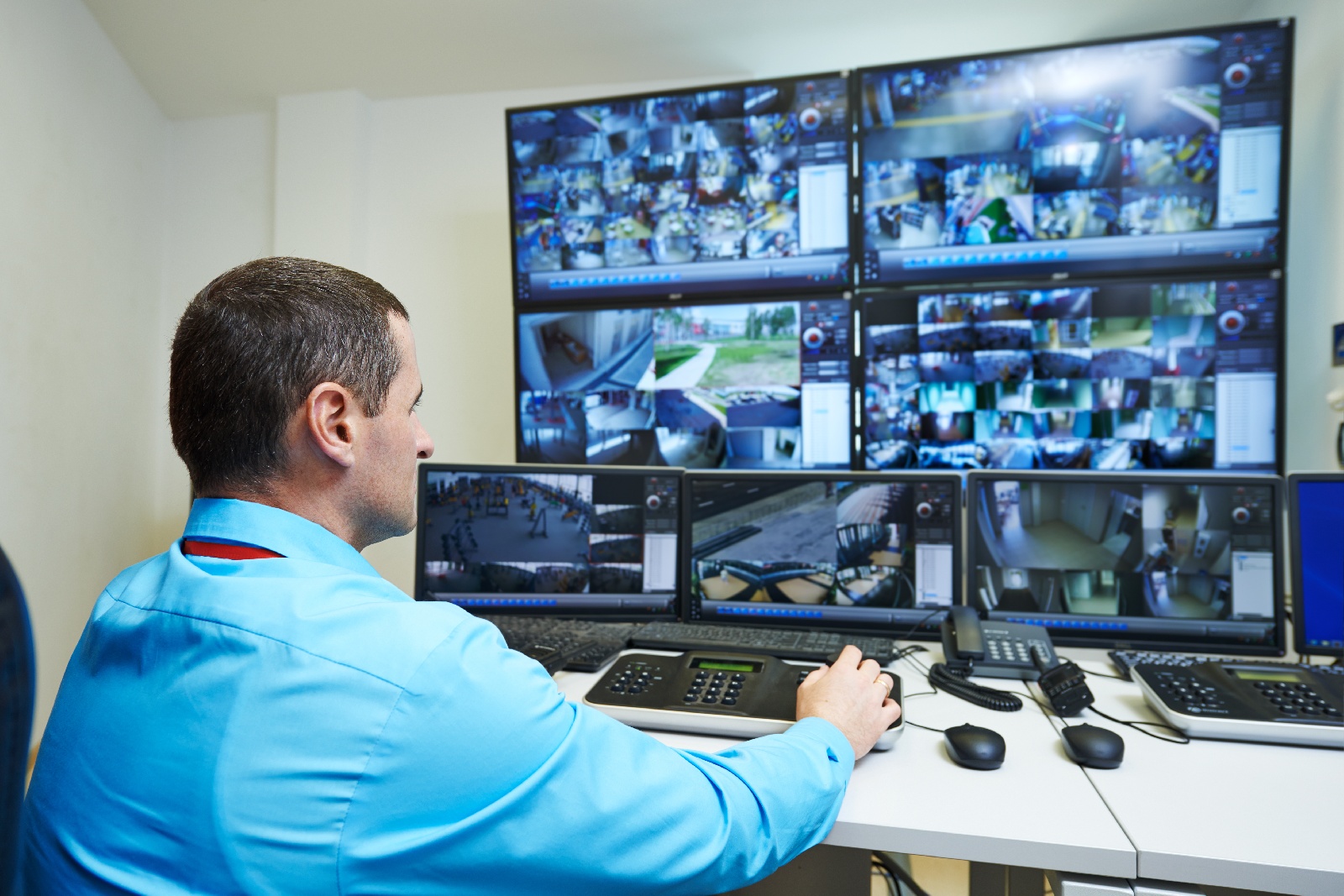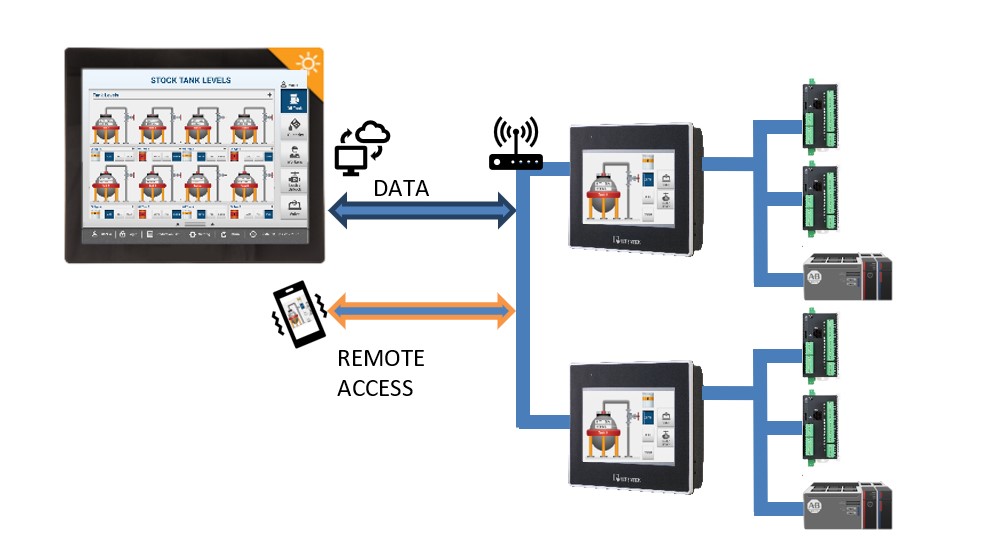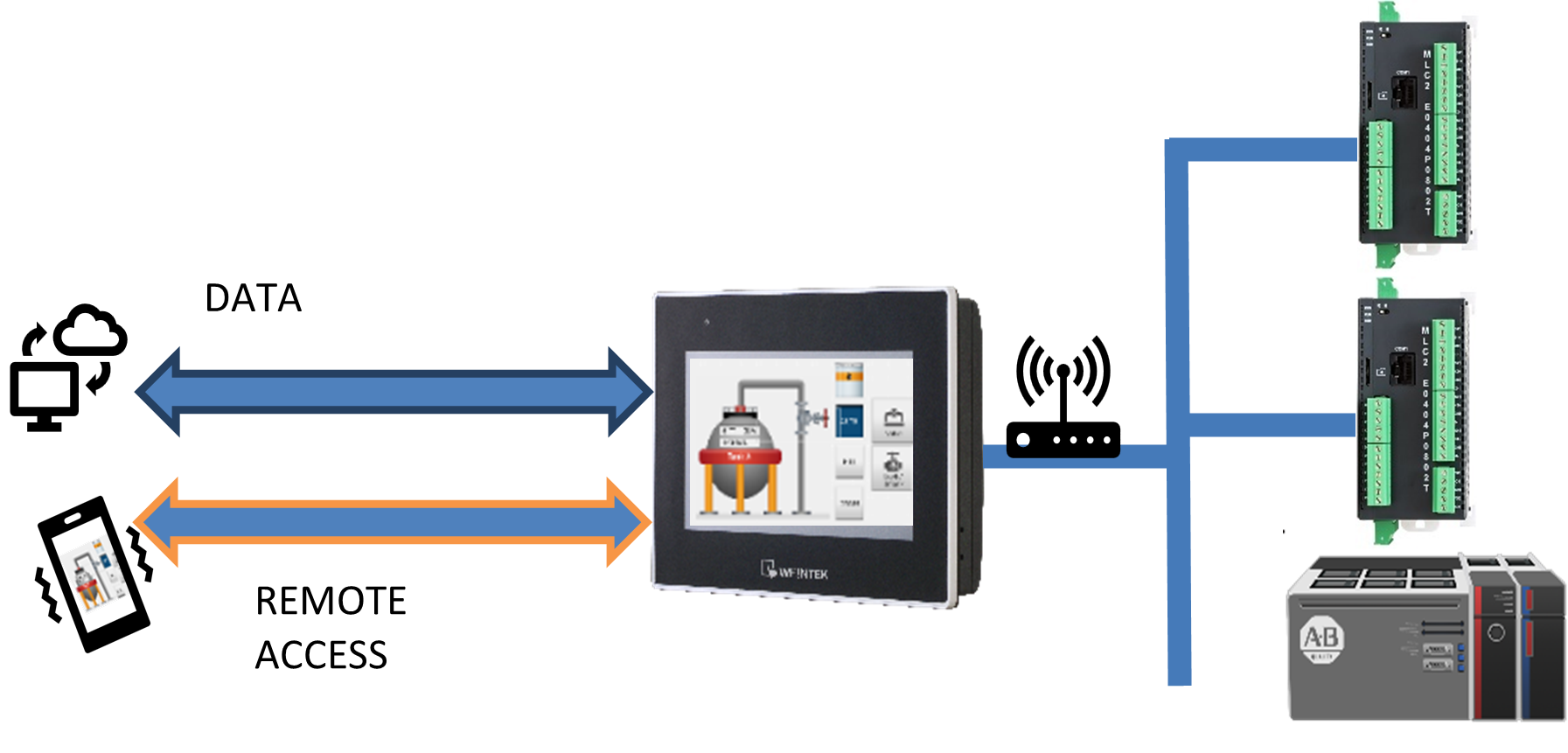 To learn more about how our products work together to create scalable SCADA solutions, visit our SCADA solutions page
Copyright © 2020. All rights reserved.