The objectives of building automation are improved occupant comfort, efficient operation of building systems, reduction in energy consumption, reduced operating and maintaining costs, increased security, historical performance documentation, remote access/control/operation, and improved life cycle of equipment and related utilities. Today's technology offers innovative solutions to building automation and industrial process control issues. Whether it's HVAC, lighting, security, or your own unique situation, our product can help you address these challenges head on.
Here are just a few of the many Building Automation Engineers, System Integrators, and Panel Builders that use our products:
"With the new cMT series units, I'm doing data grabs and reporting across networks that the "IT" people said couldn't be done. Maple Systems HMI's are price competitive, comprehensive, and robust. They are my 'Go to' HMI."
Joe Funch, Senior Technical Support
dp Brown of Saginaw, Inc

Comfort Controls buys our 15" Industrial Panel PC and designs, installs and services state-of-the-art automated building and facility management systems for commercial, industrial and marine facilities. While a significant percentage of their business is in Texas, Louisiana and the Gulf of Mexico, they do offer global support.

Northwind Electric is a full service industrial and commercial electrical contractor, specializing in design-build projects. They operate a UL508A panel shop, allowing them to provide turnkey solutions for complex industrial control challenges. They are experienced in high-end manufacturing environments where skill, safety and accountability are paramount and count on our 12" HMI (HMI5121XL) to meet their needs.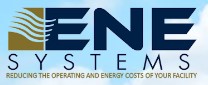 ENE Systems provides integration, engineering, and installation of building automation systems that provide return on investment to facility owners, and convenient turnkey solutions to mechanical contractors. Their staff of dedicated professionals combined with a flexible product line that includes our 9" Smart HMI (cMT3092) and decades of experience make them a reliable partner for building automation and control systems services.

Fives Lund delivers engineering with a complete customer focus. From machine and system consultation and design through assembly, commissioning and ongoing support.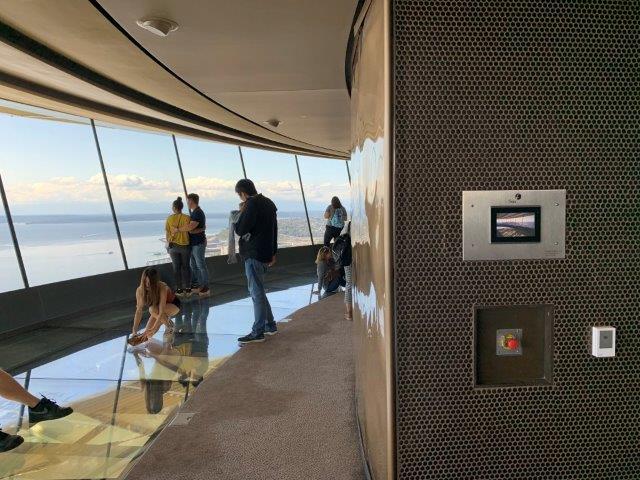 For the Space Needle renovation Century Project, Fives Lund was consulted on the turntable frame, support and drive mechanisms for the world's first and only rotating glass floor now known as The Loupe. The system was conceived, detail designed, fabricated and commissioned by Fives Lund. Fives Lund chose a Maple 7" Industrial Panel PC to control and monitor The Loupe. The Loupe has been in operation for the public since August 2, 2018.
"I'll always pay more for a quality product that gives me enough extra power and flexibility to accommodate the inevitable increase in scope or performance our customers tend to need."
Ken Roach, Senior Controls Engineer
Fives Lund
With proper monitoring, you can save energy and reduce costs.
Heating, Ventilating and Air Conditioning provide comfort and safe working conditions, so don't allow unexpected failures to catch you off guard. Real-time monitoring and trending of system performance,
efficiency and output allow you to predict problems before they occur. Scheduled maintenance is not easily forgotten when staff receive an email or message on their mobile phone providing notification of
the exact operation to be performed. From changing a filter to lubrication, to full system tests that may be years apart, let our solutions provide the peace of mind you need.
Monitor and evaluate trends in usage, report and log maintenance records.
Commercial buildings can be mammoth-sized energy and expense wasters. When this much energy is wasted, it leads to the loss of jaw-droppingly big bucks—millions nationally, according to research. A building automation system can control lighting using schedules, manual controls, occupancy sensors, and photosensors, either singly or in combination. Much of the energy savings produced by a building automation system comes from scheduling the operation of electrical loads. Our intuitive HMI configuration software and HMI products can help you reduce wasted energy and costs.
Deploy lower cost solutions and gather as much data as possible.
This digital transformation of the building automation sector involves moving away from older proprietary systems and adopting edge-to-cloud computing architectures. Our industry solutions help you design a solution that best fits your needs now and for the future as your company demands change. The remote viewing of real-time surveillance video, logging of personnel entry/exit, door status, window sensors and dedicated security system monitoring makes our solutions an excellent choice for your
building's automation system.
Maple Systems has thousands of installations dedicated to energy management. Customers have noticed
savings in the 20 to 50% ranges are not uncommon. Wireless and remote installations, collecting data
and reporting back to a centralized facility helps customers manage many locations at once.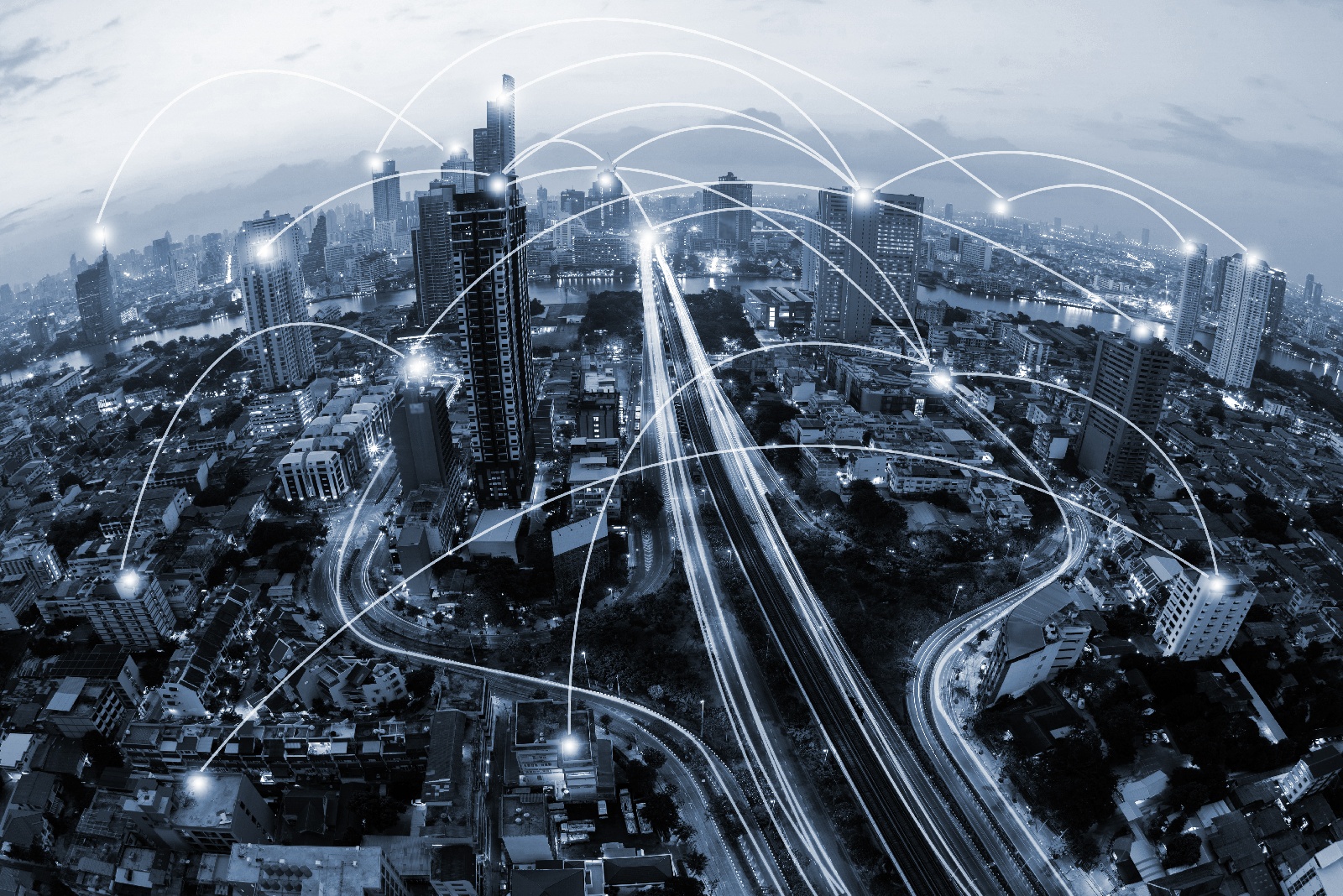 Maple Systems can serve as your guide, making it an easy process to join the next evolution of automated control. Maple Systems HMIs, Gateways, and Industrial PCs are your gateway to the IIoT. Our products are an access point enabling operating equipment in the field or on the plant floor to connect to information technologies of the World Wide Web, databases, smart phones, analytic software, and more. Achieve better access to invaluable data and open up a world of possibilities for your business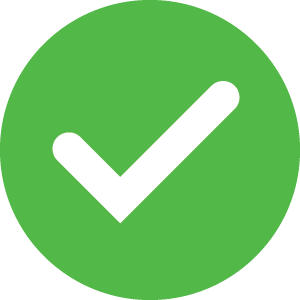 Email notifications for alarms and data backups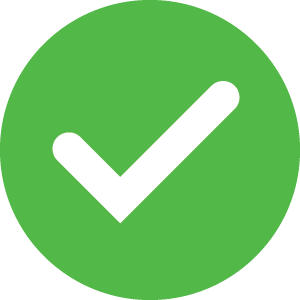 Remote access/monitoring/control functionality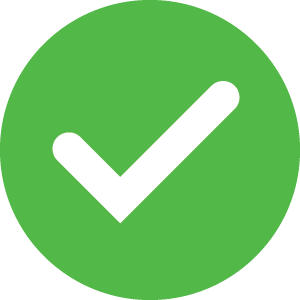 Data logging for more informed decision making
Enhanced network security thanks to physically separate dual Ethernet ports.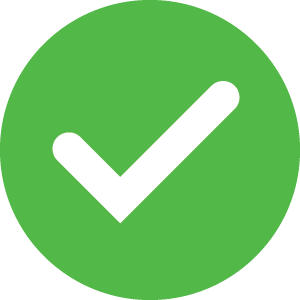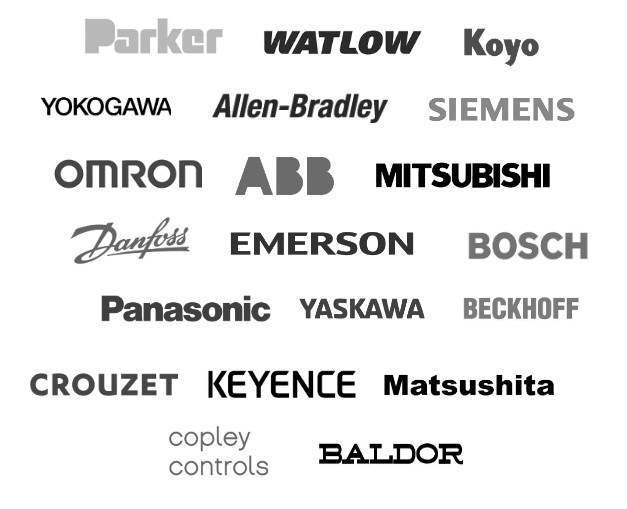 Connect the Hardware using a Protocol you Know
Free EBPro Programming Software provides easy integration with built-in drivers for over 300 PLCs, including drivers for Allen-Bradley, Siemens, Emerson, Omron, and Panasonic.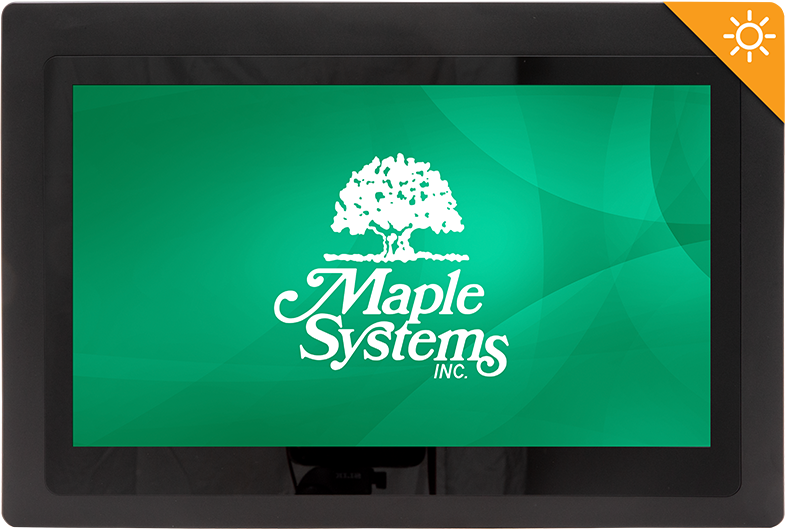 Capacitive, High Brightness, Stainless Steel,
and Wi-Fi options to choose from
To effectively and efficiently monitor building operations, the need for auto adjustments, and timely and accurate data is critical. You need reliable, current, and historical information to make critical business decisions. As safety and environmental concerns continue to increase, the ability to remotely monitor your facilities and equipment, and quickly make adjustments becomes increasingly important.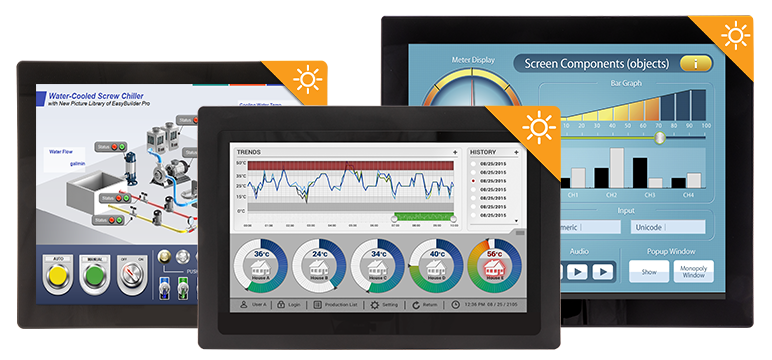 We have hundreds of configuration options to choose from:
• 11 Screen Sizes, 7"-21.5"
• 6 Intel CPUs
• 4-32GB Memory
• 32GB -512GB SSD
• Optional Wi-Fi Expansion Kit
• Microsoft Windows OS
If you don't need a display, we offer Industrial Box PCs. Customize your configuration, including Wi-Fi and Raid support options available.
For over 20 years we have proudly partnered with Indusoft Web Studio, now Aveva, as our SCADA software provider. With its powerful development tools that enable you to create supervisory applications that operate on multiple operating system platforms. Create your project using features such as animated screens, alarms, trends, scripting, recipes and reports, and schedule tasks. This feature rich application gives you the power to create your application exactly the way you want it.
Wi-Fi & Class I, Division 2 Options
Our easy to use HMIs and Free Configuration Software gives you the power and flexibility to tackle your next automation project. With display sizes ranging from 4.3" to 15", diverse options and features such as Wi-Fi, Dual Ethernet, Remote Access, Class 1, Div 2. Our easy to use HMI software allows you to pick and place graphical objects, assign communication (PLC) drivers easily, and access data from these Advanced Human Machine Interfaces.
Maximize production | Enable manage-by-exceptions | Avoid unnecessary equipment shut down
Gather data cost effectively | Prevent costly equipment repairs | Streamline ticketing and invoicing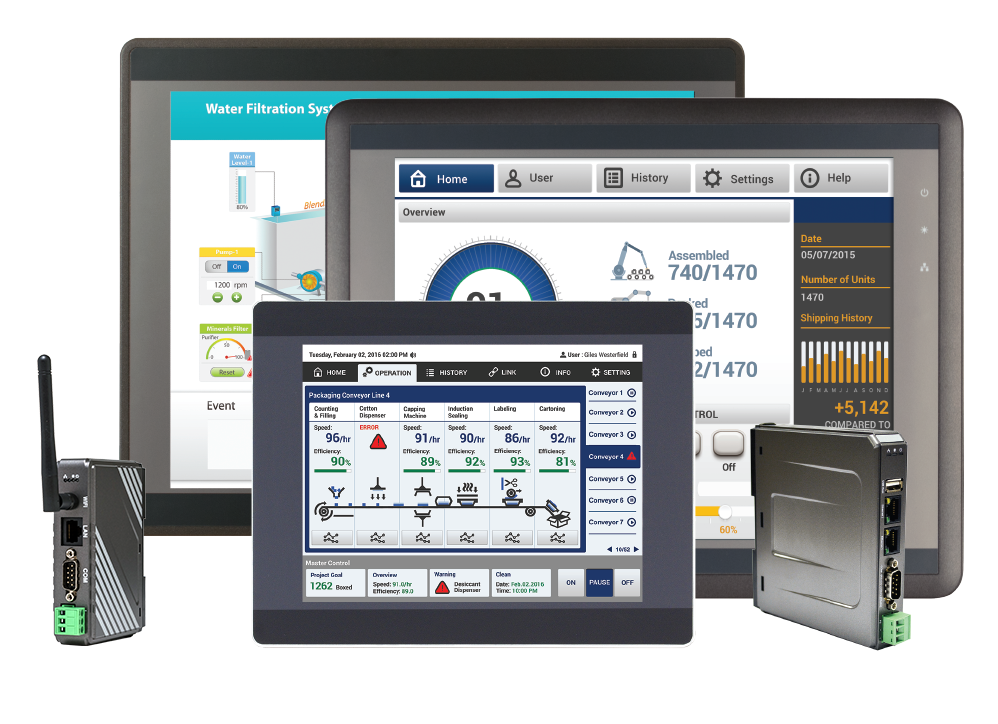 MQTT, OPC UA, Sparkplug B, Ignition, SQL Databases
These IIoT products are designed to meet the expanding need for new
ways to connect to equipment, while still preserving the core function of a
fixed operator terminal. Operators are free to remotely monitor and control equipment with any smart/mobile device, from anywhere in the world.

Data is an extremely valuable resource that creates immense opportunities for growth and increased profitability. For building automation companies, the challenge is to efficiently collect, analyze, and visualize masses of data from SCADA systems, equipment, facilities and safety systems. This data, in turn, supports operational insight and business value—all while improving return on investment.
Our HMC series combines a Touch Screen HMI and PLC all in one unit. Utilized worldwide to employ diverse applications, our HMI PLCs lower costs, save space, and feature options including: Serial and Ethernet communication, support for Class I, Division 2 installations, and numerous I/O configurations.
These controllers with displays range in size from 4.3", 7.0", to 10.2". I/O modules offer digital inputs and outputs, with analog I/O as well. Our HMI+PLC models are ideal for harsh locations with their Class I, Div 2 rating.
HMI PLCs provide an affordable combination of display and control in a single package and programmed by using our MAPware7000 software, which allows you to have web server functionality, data logging, recipes, graphs, alarms, trending, create objects with multiple tasks, and more.
You can use serial and ethernet communication to remote via Modbus to expansion I/O, making these controls capable of any size application.
Native Ladder/IEC 61131-3. With the only 10" option for Class 1, Div 2, it's great for small spaces where there is no room for a PLC.
Supervisory Control and Data Acquisition (SCADA)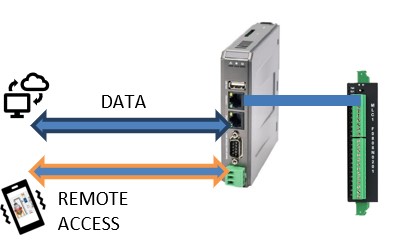 Maple Systems offers all the components you need to create your own unique level of supervisory data acquisition and control, from the simplest stand-alone machine to sophisticated multi-device networked production line(s), all the way to enterprise-level operations and IIoT functionalities leveraging cloud connectivity.
Log data from your devices to aid in reporting, to gain efficiencies, reduce downtime, and plan for routine maintenance. Add additional IIoT functionality like MQTT, OPC UA, Ignition, SQL database integration, and more. Our products can help you standardize communications between devices, gluing different systems together for one source to your SCADA. No need to redesign your entire application.
Keep the components that are already working for you, just add Maple Systems components to grow your abilities to supervise, control, and acquire data.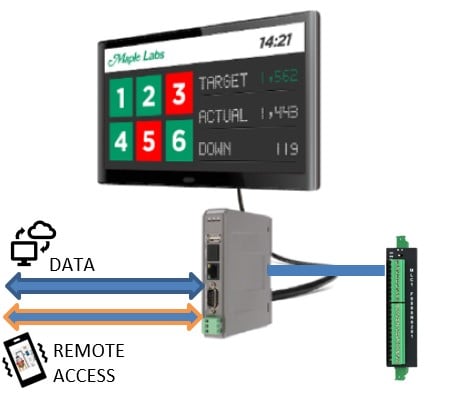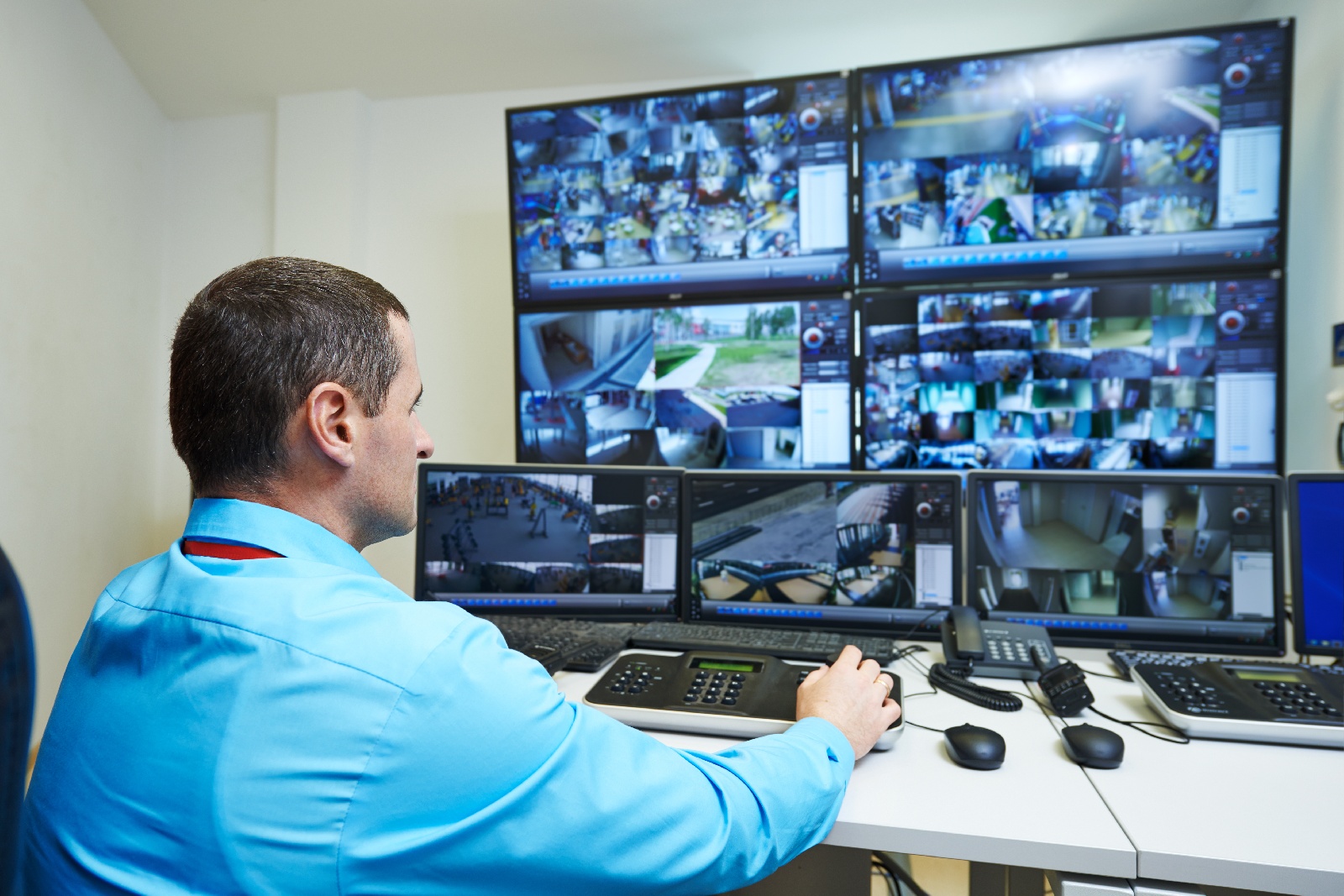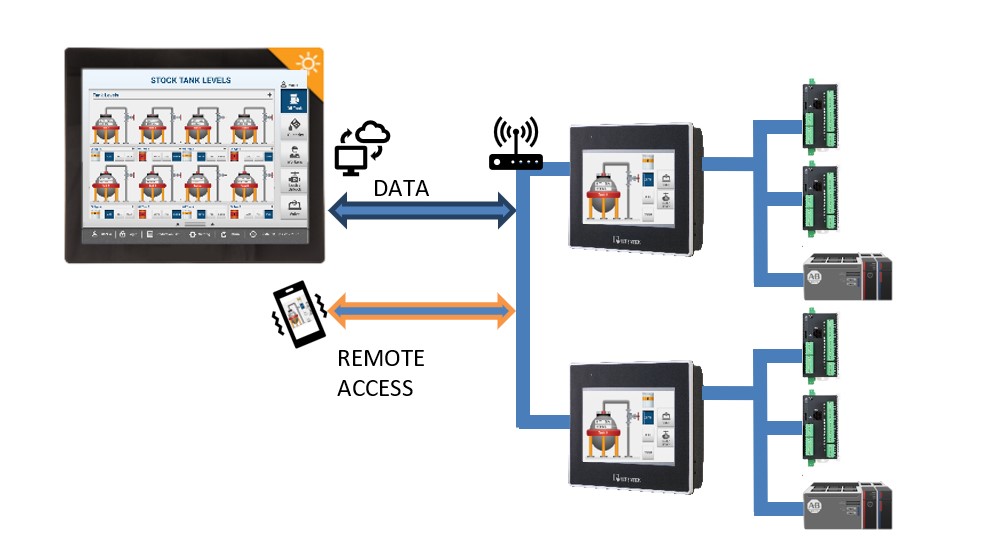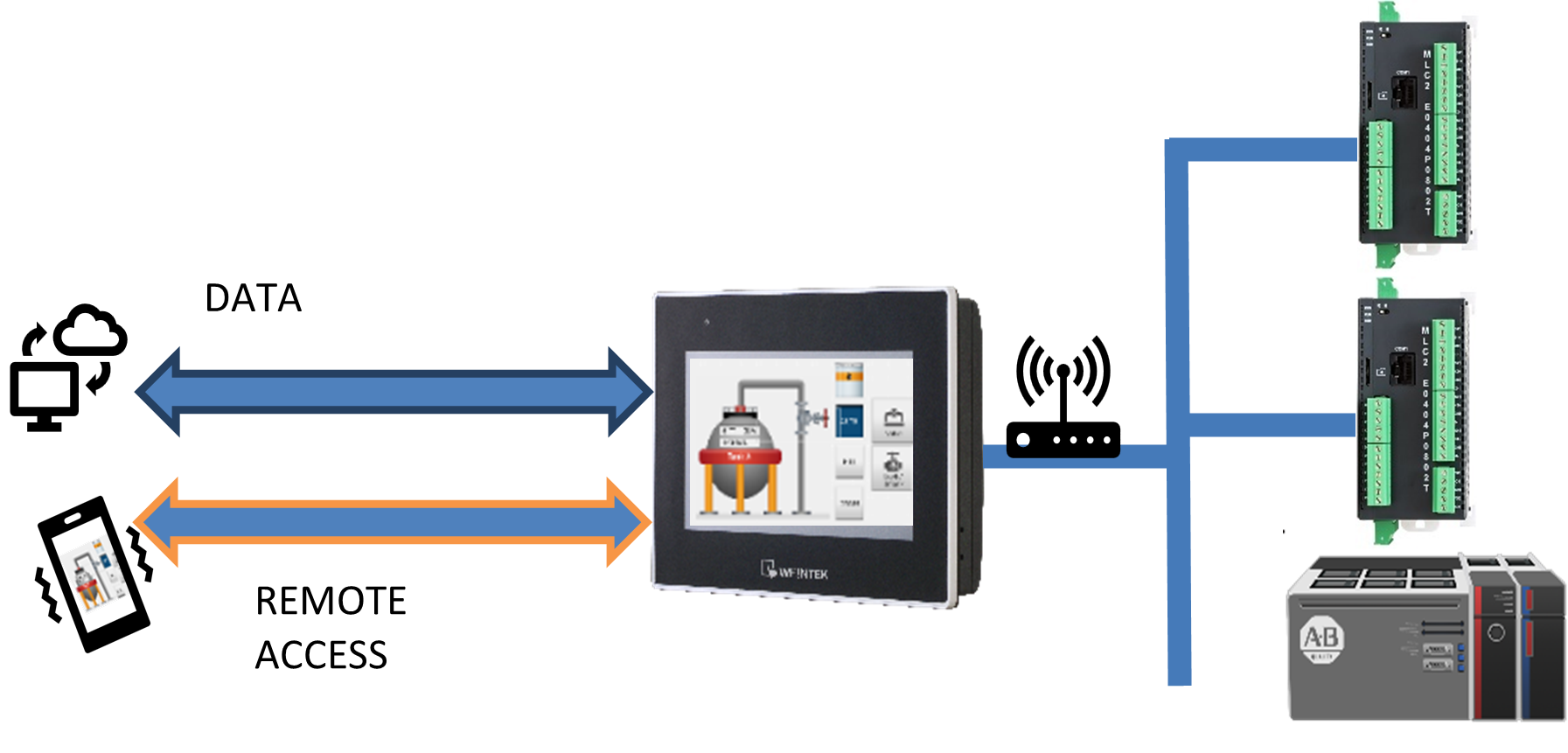 To learn more about how our products work together to create scalable SCADA solutions, visit our SCADA solutions page
Copyright © 2020. All rights reserved.